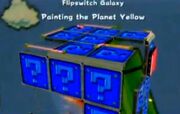 Flipswitch Galaxy is a
galaxy
appear in
Super Mario Galaxy
, that contains only
flipswitches
and bricks. There is only one planet in this galaxy. The background of this galaxy is a Mario Bros. Game.
Missions
Edit
There is only one mission in Flipswitch Galaxy.
Painting the Planet Yellow
Edit
Main Objective: Turn all the flipswitches to the yellow "on" state.
Despite the missions name, when all the flipswitches are flipped to the "on state", the planet turns green.
This is the smallest galaxy in Super Mario Galaxy.
It is the smallest Hungry Luma galaxy.
Ad blocker interference detected!
Wikia is a free-to-use site that makes money from advertising. We have a modified experience for viewers using ad blockers

Wikia is not accessible if you've made further modifications. Remove the custom ad blocker rule(s) and the page will load as expected.