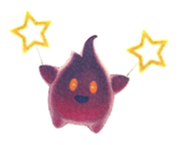 Lumacomète is a special luma in Super Mario Galaxy. It looks like a Hungry Luma only purple and with wands that resembles Rosalina's. It is found in between the Terrace and the main area. Lumacomète controls Prankster Comets. Talking to it will give Mario the options of "Tell Me More!" or "Move It!" Selecting "Tell Me More!" will result in Lumacomète telling Mario about the comets. Selecting "Move It!" will move the comets to different galaxies.
Ad blocker interference detected!
Wikia is a free-to-use site that makes money from advertising. We have a modified experience for viewers using ad blockers

Wikia is not accessible if you've made further modifications. Remove the custom ad blocker rule(s) and the page will load as expected.