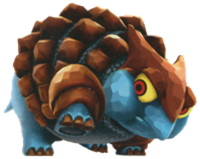 | | |
| --- | --- |
| | This article is a stub. You can help the Super Mario Galaxy Wiki by expanding it! |
Rollodillo is a boss in Super Mario Galaxy 2. He is found in the Boulder Bowl Galaxy. His attack pattern involves rolling into a ball to try and crush Mario. In order to defeat this boss and get a power star, the player must get a Rock Mushroom and roll into a ball. Even in ball form, Mario still isn't invincible. Rollodillo's spiky skin can make Mario lose some life. Once Rollodillo is dizzy, Mario must roll into a ball and hit his behind. Once the player does this three times, the player will be rewarded with a Power Star.
Ad blocker interference detected!
Wikia is a free-to-use site that makes money from advertising. We have a modified experience for viewers using ad blockers

Wikia is not accessible if you've made further modifications. Remove the custom ad blocker rule(s) and the page will load as expected.