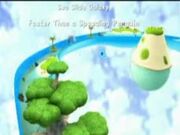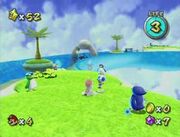 Sea Slide Galaxy is a water loop galaxy with an egg-figure island in the middle that appeared in
Super Mario Galaxy
. The main living creatures are
penguins
and
bees
.
Guppy
is raced in this galaxy. The
Bee Mushroom
can be found here.
Sea Slide
Edit
The Sea Slide contains several islands and caves, and a big tree. Shells can be picked up for quicker movement through water.
Middle Island
Edit
The Middle Island is half water, half land. Penguru looks from there to see what is going on on the sea slide.
Shrinking Planet
Edit
The Shrinking Planet appears when you fed the Hungry Luma enough Star Bits. Unlike Hurry Scurry Galaxy, here you have to collect Musical Notes around the whole shrinking planet, which makes it difficult. For a tip, the player should wear a bee suit (turn into a bee) before launching off with the planet, that way on the shrinking planet you can fly across gaps when platforms are shrunk.
Ad blocker interference detected!
Wikia is a free-to-use site that makes money from advertising. We have a modified experience for viewers using ad blockers

Wikia is not accessible if you've made further modifications. Remove the custom ad blocker rule(s) and the page will load as expected.